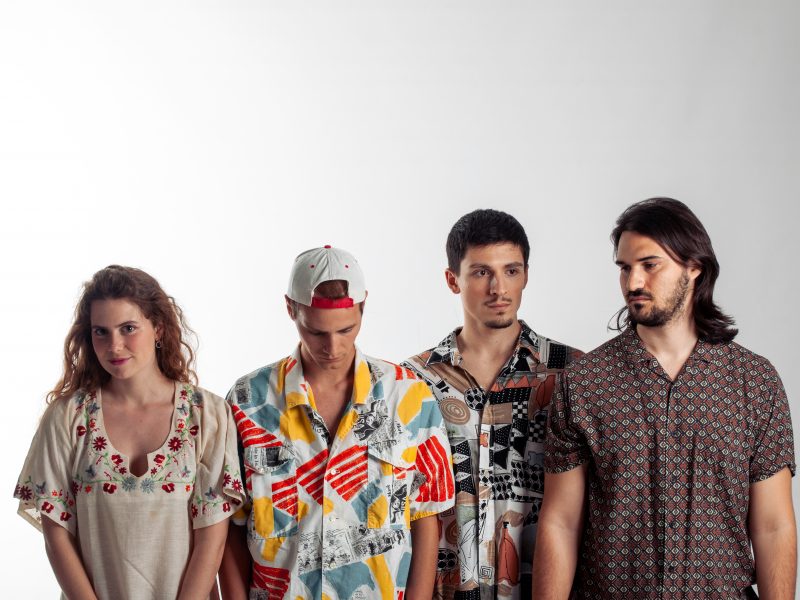 Eugenia Post Meridiem is the eclectic indie band formed by Eugenia Fera, Matteo Traverso, Giovanni Marini and Matteo Gherardi Vignolo. Following the debut album "In Her Bones" of 2019, the new album "like I need a tension" will be released on November 18th, 2022 via Bronson Recordings.
Eugenia Post Meridiem: like I need a tension is the new album to be released on November 18th, 2022 by Bronson Recordings; listen to the first single willpower
Tension is a powerful force. It drives things forwards, its friction producing interesting and unexpected results. Above all, it fuels creativity, inspiring and focusing in equal measure. It certainly works that way for Italian quartet Eugenia Post Meridiem – not for nothing is their new record titled like I need a tension, to be released on CD, vinyl and digital on November 18th, 2022 via Bronson Recordings.
"That tension helps us focus on what we are doing, and to make the best choices," says singer and guitarist Eugenia Fera. "It allows us to put aside our personal preferences and give the songs what they need."
She's referring to the disparate influences and styles she and her bandmates bring – bassist Matteo Traverso's expertise in electronic music, guitarist and keyboardist Giovanni Marini's psychedelic leanings, and drummer Matteo Gherardi Vignolo's deep love of jazz. Then there's Fera herself, whose music and lyrics are informed by soul, indie, 60s and 70s psychedelica, and 90's sound textures.
All of these are swirled into a wonderous kaleidoscope of styles, rhythms, and moods on like I need a tension, a record that wears its eclectic nature as a badge of honour. "It's like exploring a jungle," says Traverso. "You don't know what you're gonna face going through it."
The songs were written over the last two years, the band emailing ideas and musical fragments back and forth, everyone contributing. But it really came together post-lockdown with a two-week stint writing and recording in a converted barn near the village of Montaldo Bormida, in the province of Alessandria, northern Italy. "It was a totally collaborative process," says Marini. "All the composing was done together, right there in the room."
Such togetherness shines through. Spending a prolonged time just working through ideas gives each track a cohesiveness and heft, each element fully explored and developed. It was here that their musical differences became a help, not a hinderance, fueling their desire to make something distinctive. "We came to appreciate everyone's different musical tastes and influence each other," says Traverso. "Those really interesting differences made the whole process a lot of fun."
Playing all day every day, long into the night, they were able to fully inhabit a range of styles and genres. But while Fera says they wanted "to get closer to some genres", there was no conscious decision to employ specific sounds or instruments – it all happened organically. "It wasn't planned scientifically," she adds. "We made something real, something that came naturally."
"We just wanted to express ourselves in a different way," says Gherardi Vignolo. "To choose the right sound, the right approach, the right feeling for every song."
And so it is that all eight tracks hang together beautifully, linked not by some overarching concept or narrative, but simply a band exploring their talent and the vast space afforded by an open-minded approach. The soft, stylish 90's shuffle of opener unchained will gives way to the off-kilter drums and jittery guitar of around my neck, a song that references both Foals' math rock stylings and mid-2000s Radiohead. The latter, in particular Jonny Greenwood's singular guitar lines – one of Marini's biggest influences – is also present on the sombre, brooding crucial spring and first single willpower.
That song – "It's a statement about the raising of a precious thought in the mind of a teenager," says Fera – also makes use of an unusual time signature and judicious pauses, examples of band unafraid to experiment. There are also soft brass parps throughout the chorus, a nod to jazz and the type of eclectic detail that powers much of modern indie and post-punk.
Elsewhere, tiny prospectives sees Fera flirt with spoken word delivery and vocoder effects, giving her voice a haunting, piercing quality. It also switches time signatures, delivering several jolts throughout while maintaining a seductive, slow jam mood. On the other hand, ocean flaws is a graceful, sweeping ballad; elegant, poised, luscious. It's the grandest track here in terms of ambition, the brass and guitar combining beautifully throughout its gently blooming crescendo.
Then there's mazes of gazes, a song inspired by Oscar Jerome and Afrobeat. "It really represents our musical journey in terms of trying to express something distant from reality," says Traverso. "It's like a mystical experience for me."
In all, like I need a tension is the sound of a band reimagined their soundscape and the sonic impact felt by listeners. Sharing ideas and perspectives, and making each song a unique statement. That depth means it rewards those who go beyond passive listening, who want to dive deeper into the music and explore – the structures, the compositional flourishes, the time signatures. "We tried to make pop music that wasn't banal or easy," says Fera. "That idea guided us."
Besides, she adds, "We all have something inside of us that reveals itself through our art. That's our path, and we're just following it."
---
Label: Bronson Recordings | Press: Digipur – press@digipur.it | Booking: BPM Concerti – cecca@bpmconcerti.com